Solar PV (Photovoltaic)
An introduction to Solar PV
Increasingly people are considering renewable sources of energy. Some to improve their green credentials, while others look to reduce their dependence on energy suppliers and lower household bills. Owners of properties beyond the reach of the normal supply network are also turning to such technologies. Solar PV (photovoltaic) is one growing area which is being specified for property improvements, renovations and new builds.
Looking for Solar Thermal instead? Visit our Solar Thermal section for more information.
So how does Solar PV work?
Usually comprises of a roof mounted system (but not exclusively) Solar PV is one great method of generating electricity for the home. Using light from the sun an inverter converts electricity from direct to alternating current. The end result is effectively electricity 'on tap' which can be used to power regular household appliances. Buts that's not all, any surplus can be pumped into the national grid from where you can receive a payment through the governments Feed-In Tariff for the power you supply. The main stipulation to benefit for the tariff is that panels are approved by the Microgeneration Certification Scheme (MCS) and that an accredited MCS Installer carries out the installation.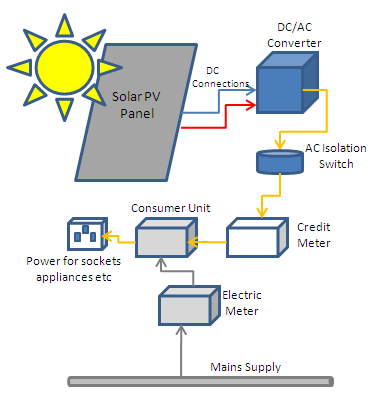 Using Solar in the UK
Solar PV needs just sun light to function, not the sun's heat. Dull weather will still result in your PV system producing electricity. Maximum efficiency is gained from an installation which faces south, but system can still work when facing easterly or westerly.
Positioning
Positioning of panels is important for the process to work efficiently. The principles are simple; panels are placed in a position (normally a roof) that ensures maximum exposure to solar radiation. Shade will hamper efficiency, so consideration should be made for trees or buildings in the area which may block sunlight to the PV panels.
More About the Feed-In Tariff
You can sell electricity back to the main electricity grid. Any surplus of electricity can be pumped into the nation grid from where you can receive a payment through the governments Feed-In-Tariff (FIT) for the power you supply when you've produced more electricity than you can use. With the right system in place this can lead to a good return on your investment.
Up to date information concerning the feed in tariff can be found here.
You'll be happy to know that Northern Gas Heating Ltd are MCS Accredited, thus meaning we can install a Solar PV system for you that'll meet the requirements of the Feed-In Tariff. Your Solar PV will be linked to the national Grid earning you 4.64 pence per unit that you supply. Your PV meter will show you what's been generated in total and how much has been exported to the grid. The balance will be your own usage. For homes unconnected to the national grid solar can still be installed and you will still earn something for the electricity generated although the extra from the export tariff will not apply. The Feed-In Tariff is set to run for 20 years from the date your PV system is registered and payments are linked with the Retail Price Index. After 2012 the amounts paid will be reduced slightly for new entrants to the scheme. This is to encourage people to install systems as soon as possible.

Advantages of NGH Solar PV panels
10 Year Product Guarantee - Our commitment to quality and service means we provide our customers with an unparalleled package. If ever you encounter any problems with your new system we will ensure your investment is protected with a 10 year Guarantee. You will therefore have the peace of mind knowing your system is fully protected if a problem comes to light. This is our promise to you.
Tolerance Warranty - Most PV systems will reduce in efficiency over time. The installation of a PV system after 10 years is likely to reduce in efficiency to 90% and to 80% after 25years. At NGH however we guarantee the installation of your new PV system will be efficient for years to come. Unlike many PV systems on the market, a NGH solar PV system will be efficient for at least 30 years.......the NGH Tolerance Warranty will make sure of this.
10 Years = 100% efficiency
12 Years = 90% efficiency
25 Years = 82% efficiency
Maintenance & Operation Support - Our reputation to put customers first is clearly visible in the extra measures we take. Our commitment to quality and excellence means we are on hand to help customers if ever they need us. If you notice your system isn't working to its full efficiency then this panel will be an 'efficiency' match, which we'd use to replace any panel not functioning at the same output level as the other panels.
It's no good just economising. Look how energy prices have increased despite a reduction is consumption.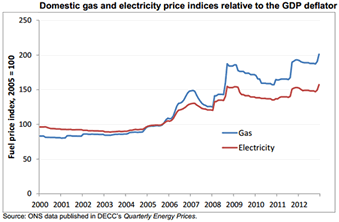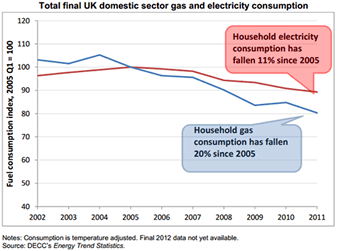 https://www.gov.uk/government/publications/estimated-impacts-of-energy-and-climate-change-policies-on-energy-prices-and-bills

Find out more
Northern Gas Heating Ltd is happy to help you in any way possible with your solar enquiries. We are on hand to visit you and to make a no-obligation assessment to ensure that it's feasible to install Solar PV to your property and that it's right for your needs.
Recent Installations
NGH Energy has been busy installing Solar PV all over the UK. Read our domestic and commercial case studies illustrating the varied property types we've successfully installed in the past 12 months.
From residential homes to commercial properties, agricultural buildings and farmland. Solar now offers everyone the chance to generate their own electricity.
Looking for Solar Thermal instead? Visit our Solar Thermal section for more information.