Renewables

At NGH Energy we have long since supplied and fitted Air Source Heat Pumps but now we have our very own range!
The appropriately named Apache 5000, Apache 8000 & Apache 13000 cover a range of heating capacities which make them suitable for a multitude of domestic and commercial situations. We are also proud to announce the accompanying swimming pool option which is designed specifically to heat outdoor or indoor pools.
Air Source Heat Pumps
Here at NGH energy, we take advantage of the latest technology to provide proven Air Source Heat Pumps solutions that are tailored to the individual requirements of each home.
The Benefits of installing Air Source Heat Pumps
Reduce your CO2 emissions by up to 50%
Counts towards level 3 code for sustainable homes
Simply requires water and electrical supplies no gas, flues or ventilation
Low running & maintenance costs
Low running noise
Reduced VAT to 5% for domestic applications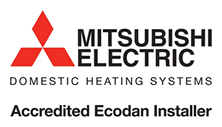 How Air Source Heat Pumps work?
Air source heat pumps are similar in principle to a refrigerator but instead of cooling they take heat from the air and convert it into usable heat.
A heat pump usually has four main components, an evaporator, compressor, condenser and expansion valve.
An air source heat pump works by taking air from outside which is drawn over the evaporator. The refrigerant soaks up heat from the air and converts it from a liquid to a vapour. The refrigerant is sent through a compressor, which pressurises and as a result pushes up the temperature of the vapour. This can now provide a temperature we can use in domestic heating. The higher temperature refrigerant then goes to the condenser heat exchanger, moving heat to the heating system. The refrigerant returns to liquid now that the heat is removed. The liquid refrigerant then returns to its original state as it passes through the expansion valve.
To contact us to learn more about Air Source Heat Pumps simply follow the link below.

Getting Air Source Heat Pumps installed
So you've decided that you want to have Air Source Heat Pumps installed. Our unique customer-driven approach ensures that we are able to provide the complete solar hot water service.
Renewable Heat Incentive
Anyone looking to install Air Source Pumps will be interested in learning more about the Government's Renewable Heat Incentive (RHI).