Solar Thermal - Hot Water System Installations
Here at Northern Gas Heating, we take advantage of the latest technology to provide proven solar hot water solutions that are tailored to the individual requirements of each home.
Looking for Solar Photovoltaic (PV) instead? Visit our Solar PV section for more information.
Solar power and the environment
Fuelled by our emissions of CO2 and other greenhouse gases, planet Earth is warming up.
With our consumption of gas and electricity accelerating, the trend for rising fuel costs looks set to continue. It is therefore more important than ever to reduce our household carbon footprints and the amount of energy we consume.
Look how average gas bills have increased since 2003.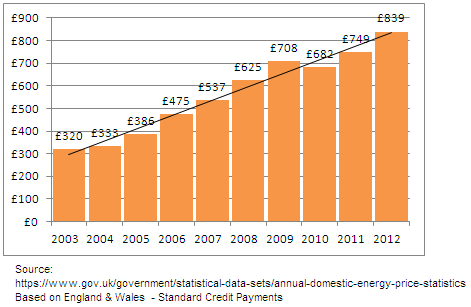 https://www.gov.uk/government/statistical-data-sets/annual-domestic-energy-price-statistics
Solar Thermal - What is it?
Solar Thermal uses the free natural energy of light (solar radiation) to convert daylight into energy for the purpose of heating water. This process replaces the need to use gas, oil or electricity to heat your water and at the same time reduces regular bills with free energy from the sun.
How does Solar Thermal work?
An evacuated solar thermal tube system is used to collect energy. These collectors are an efficient technology which heats water rapidly. Water does not run though the tubes but is heated by radiation at the top of the system. This design means that the system is unaffected by wintery conditions and remains functional all year round.
The process works by absorbing sunlight directly onto the outer tubes. The glass evacuated tubes then lock in this heat. Inside these collectors are a series of heat pipes made up of high graded nickel plated copper for effective heat transfer. Heat then rises to the top of the heat pipe heating water, whilst cold vapour liquefies to the bottom of the collector in order for the heat process to continue.
The Solar tube collectors are connected to a solar cylinder which stores the hot water until it is required for use.

Key benefits of Solar Thermal?
Produce cost effective, environmentally friendly hot water.
You only pay once for your system and not for the energy you use.
Provide between 50% and 70% of the hot water used by a typical household.
Prolong the life of a boiler by as much as 20% by reducing the time it is in use.
Reduce household CO2 emissions by up to 645kg per year.
Provide an extremely reliable means of heating water that has an exceptionally long working life and requires little or no maintenance.

Benefits of the NGH system
The heat pipe is made from high-grade copper and nickel-plated in order to eliminate fusing to the heat exchanger.
The tubes will not break or freeze during winter months as water does not flow through the collectors.
Versatile Solar Collectors - the collectors are suited to many roof tops including flat roofs, sloping and pitched roofs.
Savings
Solar thermal will produce an average 70% of your hot water needs annually. This will help to dramatically reduce your heating bills.
The installation of a solar water heating system through Northern Gas Heating could reduce your hot water bills by an impressive 95% throughout the summer months and typically 30 - 40% during the winter.
It's no good just economising. Look how energy prices have increased despite a reduction is consumption.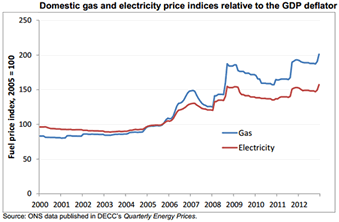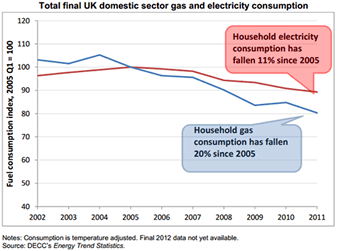 https://www.gov.uk/government/publications/estimated-impacts-of-energy-and-climate-change-policies-on-energy-prices-and-bills
Renewable Heat Incentive
Anyone looking to install Solar Thermal will be interested in learning more about the Government's Renewable Heat Incentive (RHI).
Did you know?
Solar hot water systems convert both sunlight and daylight into hot water. They are extremely efficient & can effectively heat water all year round, even when it's cloudy.
Getting Solar panels installed
So you've decided that you want to have solar panels installed. Our customer-driven approach ensures that we are able to provide the complete solar hot water service.
Simply request a free quote or fill out the quick form on the right
We'll call you to arrange for one of our friendly consultants to visit your home.
They'll analyse the size of your property, your roof, the direction it faces and consider your hot water requirements.
Using this information, they will then recommend the ideal system for you and your family.
Should you choose a Northern Gas Heating solar water system, we'll complete the installation to the highest possible standards.
Our dedicated team of customer service professionals will provide all the support you need to get the most from your investment.

Looking for Solar Photovoltaic (PV) instead? Visit our Solar PV section for more information.